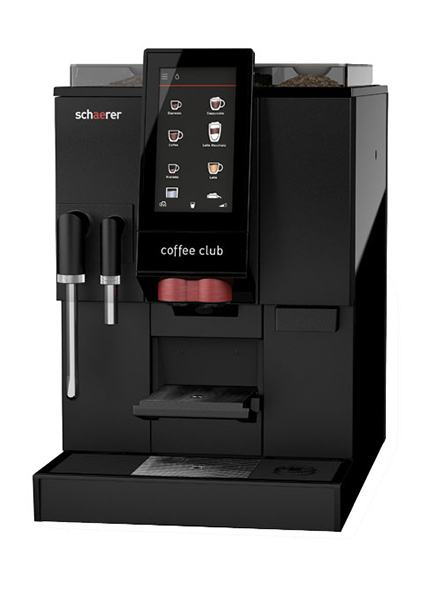 The whole office will fall in love with the Schaerer Coffee Club espresso machine. Despite it's smaller dimensions, thanks to which it fits into virtually any kitchen, it manages to prepare seven types of coffee and can handle the craft of making fluffy milk foam.
Are you a technology enthusiast? Then this coffee machine will be incredibly fun for you. This machine can be paired with a mobile application where you can set and save your own favorite beverage size, coffee intensity and amount of milk foam.
Schaerer has been manufacturing high-end coffee machines and drippers since the 1920s. The manufacturer places great emphasis not only on the technical design but also on hygienic standards and perfect cleanliness.
Coffee Machine Properties



coffee beans, chocolate
fresh / powdered milk

Ristretto, Espresso, Espresso macchiato, Espresso doppio, Cappuccino, Flat White, Caffè Americano, Latte macchiato, Caffè mocha, Chocolate, Chocolate with milk, Milk foam, Hot water

Possibility to install the Nayax payment system with unlimited volume of transactions (accepts payment cards, chip cards, mobile payments and PayPal)



Width: 325 mm
Height: 501 mm (556 mm)
Depth: 570 mm

Easy daily cleaning with the Click & Clean system. Can be connected to a waste system


The Steam Jet function allows you to heat the cup to your individual needs

SCHAERER coffee machines to choose from
Treat yourself to professional services for your office