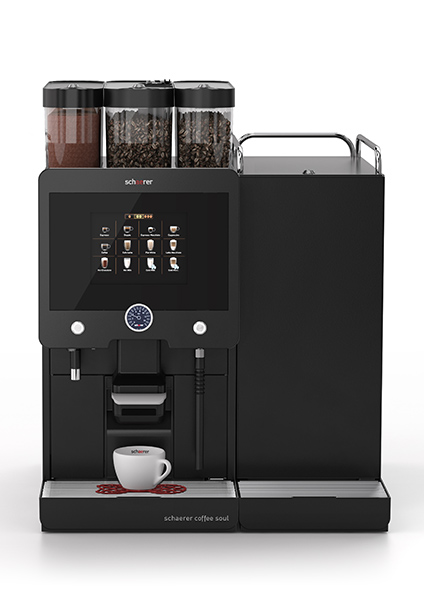 SCHAERER COFFEE SOUL
The Coffee Soul iced coffee machine is literally loaded with technology and is one of the best that Schaerer has to offer. It is ideal for large offices with high coffee consumption.
This fully automatic coffee machine will captivate you, especially with its Hot & Cold functions which make iced coffee preparations a complete joy. The coffee is cooled to 30-35 ° C immediately after extraction. The ice cubes will melt in it much slower than in a hot coffee thus retaining the intense taste much longer. Another advantage is the patented milk foam preparation system BestFoam. This can prepare the same fluffy foam as an experienced barista in both hot and cold versions. With a choice of four different consistencies, you can prepare up to 32 different types of coffee. The individual parameters can be changed and saved as you wish.
Schaerer has been manufacturing high-end coffee machines and drippers  since the 1920s. The manufacturer places great emphasis not only on the technical design, but also on hygienic standards and perfect cleanliness.
Coffee Machine Properties



coffee beans, chocolate
fresh / powdered milk

Ristretto, Espresso, Espresso macchiato, Espresso doppio, Cappuccino, Flat White, Caffè Americano, Latte macchiato, Caffè mocha, Caffè mocha, Chocolate, Chocolate with milk, Milk foam, Hot water

Possibility to install the Nayax payment system with unlimited volume of transactions (accepts payment cards, chip cards, mobile payments and PayPal)



Width: 330 mm
Height: 761 mm
Depth: 600 mm

Easy daily cleaning with the Click & Clean system Possibility of connection to the waste system


The Steam Jet function allows you to heat the cup to your individual needs

SCHAERER coffee machines to choose from
We rent a wide selection of coffee machines, we have a solution for every office.
Treat yourself to professional services for your office