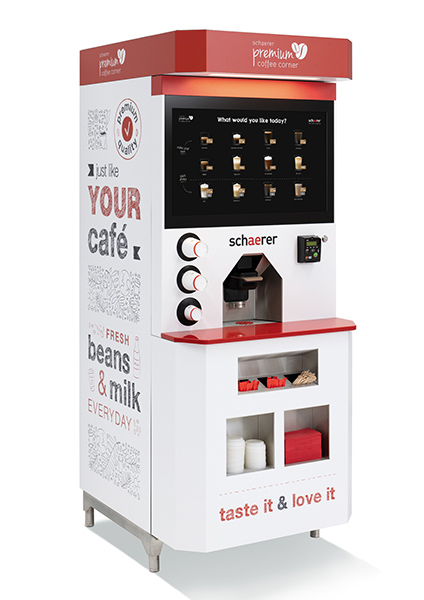 SCHAERER PREMIUM COFFEE CORNER
Imagine a coffee vending machine that makes you feel you've received a cup of coffee directly from a professional barista! Coffee beans, fresh milk, fragrant syrup… did this cup really come from a machine?!
A 1m2 coffee bar, that's the Schaerer Premium Coffee Corner coffee machine. The perfect complement to a company canteen, petrol station or shopping center. It contains 3 trays for coffee beans, 2 trays for ground coffee or chocolate and 4 different syrups.
Forget about milk powder cappuccinos! With a Schaerer Premium Coffee Corner you can't tell it was brewed by a vending machine. It prepares milk foam from fresh milk only and you can choose between cold and hot setttings. The patented Best FoamTM system will take care of the quality and breathability.
Schaerer has been manufacturing high-end coffee machines and drippers  since the 1920s. The manufacturer places great emphasis not only on the technical design, but also on hygienic standards and perfect cleanliness.
Coffee Machine Properties



coffee beans, chocolate, fresh / dried milk, syrup

Ristretto, Espresso, Espresso macchiato, Cappuccino, Flat White, Caffè Americano, Latte macchiato, Caffè mocha, Chocolate, Chocolate with milk, Milk foam, Hot water, Cold milk, Cold milk foam

Possibility to install the Nayax payment system with unlimited volume of transactions (accepts payment cards, chip cards, mobile payments and PayPal)

32" diagonal
Touch screen


Width: 792 mm
Height: 1960 mm
Depth: 966 mm

Easy daily cleaning with the Click & Clean system Possibility of connection to the waste system


Tray for 3 different sizes of cups
Possibility to choose the color design
Syrup Station – 4 types of flavors
3 trays for coffee beans
20l cooling tank for fresh milk
2 chocolate trays
Machine branding

Plumbing / External pump, water dosing
SCHAERER coffee machines to choose from
We rent a wide selection of coffee machines, we have a solution for every office.
Treat yourself to professional services for your office