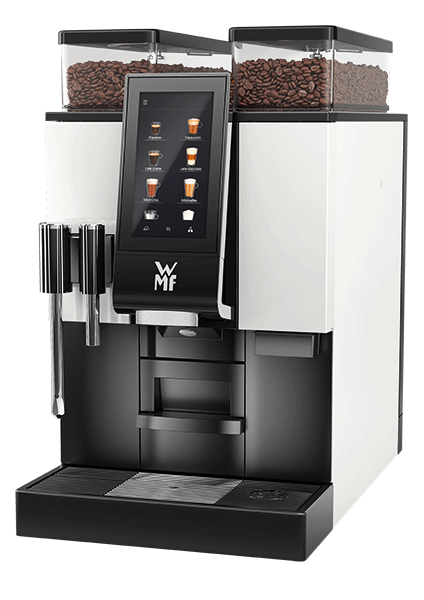 A luxurious automatic coffee machine that fits into even the smallest kitchen. Suitable for medium-sized offices with a high daily coffee consumption.
Small dimensions do not mean a compromise on quality. The WMF 1100S automatic coffee machine can prepare the same types of coffee as its larger counterparts. Featuring an easy and intuitive operation thanks to the 7"colour touch screen, and a steam heater to heat the cup to the right temperature in seconds. A big advantage is the patented Click & Clean function, which automatically cleans the coffee machine.
The German brand WMF has been producing coffee machines since 1927. During that time, due to its quality, it has become the market leader in office coffee machines and owns a number of world patents for the best preparation of coffee drinks. WMF is synonymous with coffee professionalism.



Coffee beans, chocolate, fresh / powdered milk

Ristretto, Espresso, Espresso doppio, Espresso macchiato, Cappuccino, Flat White, Caffè lungo, Latte macchiato, Caffè mocha, Hot Chocolate, Hot Chocolate with milk, Milk foam, Hot water

Possibility to install the Nayax payment system with unlimited volume of transactions (accepts payment cards, chip cards, mobile payments and PayPal)



Width: 325 mm
Height: 500 mm
Depth: 561 mm

Easy daily cleaning with the Click & Clean system. Can be connected to waste system


The Steam Jet function allows you to heat the cup to your individual needs

WMF coffee machines to choose from
We rent a wide selection of coffee machines, we have a solution for every office.
Treat yourself to professional services for your office