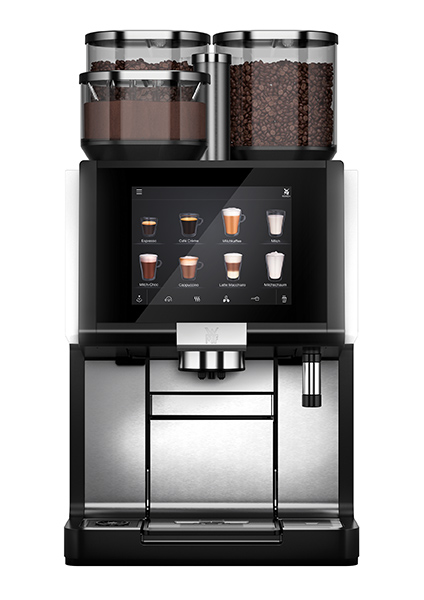 WMF 9000 S+
Perfect enjoyment from every cup to please even the most demanding gourmet. Suitable for large offices with high requirements for coffee quality.
brew up to 350 cups of coffee a day

individually adjustable preparation parameters
The WMF 9000 S + coffee machine will delight you with its wide range of options. You can set the individual preparation parameters for each coffee according to your own wishes. Adjust the temperature and amount of water, the amount of coffee or the consistency of the milk foam. The coffee machine will then make sure that each cup is always the same.
Those who do not want (or cannot for health reasons) use regular whole milk will be happy also as the WMF 5000 S + has two separate milk routes, so you can treat yourself to a low-fat, soy, almond or oat milk cappuccino.
The German brand WMF has been producing coffee machines since 1927. During that time, due to its quality, it has become the market leader in office coffee machines and owns a number of world patents for the best preparation of coffee drinks. WMF is synonymous with coffee professionalism.



coffee beans, chocolate
fresh / powdered milk

Ristretto, Espresso, Espresso doppio, Espresso macchiato, Cappuccino, Flat White, Caffè Americano, Latte macchiato, Caffè mocha, Chocolate, Chocolate with milk, Milk foam, Hot water

Possibility to install the Nayax payment system with unlimited volume of transactions (accepts payment cards, chip cards, mobile payments and PayPal)

10,8" diagonal
Touch screen


Width: 390 mm
Height: 744 mm
Depth: 598 mm

Fully automatic cleaning Clean in Place

3,4–3,8 kW / 220–240 V
6,0–7,0 kW / 380–415 V

The Steam Jet function allows you to heat the cup to your individual needs

Plumbing with the need to connect to a waste system

PROPERTIES OF COFFEE MACHINE
Dynamic milk – hot and cold drinks
Possibility to connect 2 different milk sources
Option to add Syrup Station (4 flavors)
WMF coffee machines to choose from
We rent a wide selection of coffee machines, we have a solution for every office.
Treat yourself to professional services for your office