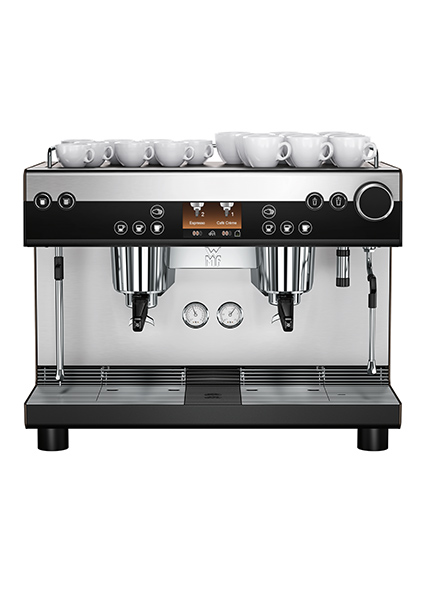 WMF ESPRESSO
Become a professional barista for a while! The combined WMF Espresso coffee machine is the perfect combination of a fully automatic and a lever coffee machine, perfect for corporate coffee needs.
Prepare a "manual automatic" espresso in the comfort of your office. The coffee bean grinding, tamping and main preparation parameters (water temperature, extraction time and pressure) are taken care of. All you have to do is tighten the handle and press the button. You'll feel like a pro with the WMF Espresso coffee machine.
The German brandWMF has been producing coffee machines since 1927. During that time, due to its quality, it has become the market leader in office coffee machines and owns a number of world patents for the best preparation of coffee drinks. WMF is synonymous with coffee professionalism.




Ristretto, Espresso, Espresso doppio, Espresso macchiato, Cappuccino, Flat White, Caffè Americano, Latte macchiato, Milk foam, Hot water

PROPERTIES OF COFFEE MACHINE
2 integrated grinders
Automatic coffee compaction with precise weight adjustment
Possibility to dispense more drinks at the same time
100% consistency and quality of coffee
3 different consistencies of milk foam
Possibility of regulating the water temperature for tea
Possibility of whipping milk on a steam nozzle



Width: 723 mm
Height: 580 mm
Depth: 540 mm (600 mm)



The Steam Jet function allows you to heat the cup to your individual needs

Connection to the water supply and waste system
WMF coffee machines to choose from
We rent a wide selection of coffee machines, we have a solution for every office.
Treat yourself to professional services for your office