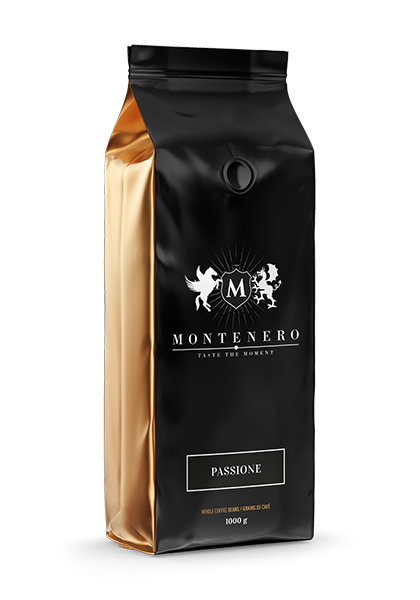 Caffè Montenero Passione
Passione consists of two varieties of the dry processed arabica. The coffee has a pleasant taste, chocolate aroma and a long-lasting aftertaste. The acidity is very low and the body is very rich and intense. The coffee has a higher caffeine content and medium sweetness. Good for a quick refreshment before your next meeting.




Brazílie, Alta Mogiana, São Paulo / 65 % / dry processed
Indie, Arabica / 35 % / dry processed

RECOMMENDED PREPARATION FOR COFFEE MAKERS WMF, SCHAERER A COFFEE EXPERTS:
RECOMMENDED PREPARATION FOR WMF, SCHAERER AND COFFEE EXPERTS:
Amount of coffee: 12 grams
Temperature:93 °C
Final drink weight: 26 grams (single), 52 gram (double)
Extracion time: 25 seconds
Extraction ratio: 46 %
(Tested on WMF 5000 S+ coffee machine)


Premium coffee to choose from
Caffè Montenero coffee represents a selection of the best coffee beans from Latin America to Asia. It is made by masters in roasting coffee.
Treat yourself to professional services for your office